SHE won most of the awards in 2008.  Twins fans commented that SHE won simply due to Twins absence.  SHE were offended by that.
Twins appeared in Hong Kong much earlier than SHE long ago.  Ah Kiu (right) is the type of lady I would fall for and fansy about.  However, as time goes, Ah Sa (left) is proven more adventurous and earn my respect for her personality.
There are properly 1 or 2 songs I like among their albums but I cann't remember which ones.
Later Ah Kiu's private 18SX pictures were stolen and went public.  Which eventually ruin her career and no longer appear as celebrity since then.  Ah Sa continues on her own and now more known with her full name Charlene Choi.
Ah Kiu could have become so much more famous along with the 18SX issue.  But her personality wouldn't let her take advantage of such an event.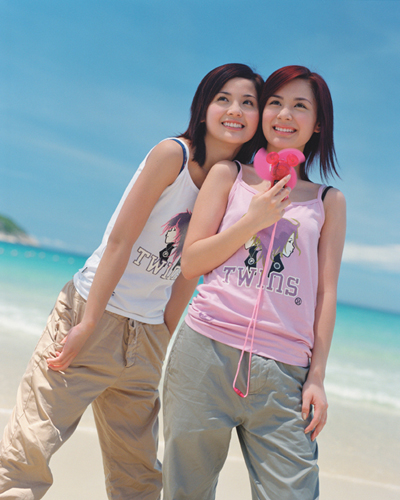 SHE is much more dynamic.  3 of them have very different personalities and yet they are able to stay together for such a long time.  The result ... a unique blend that can full fill a large group of audience.
I am hot for Hebe and sometimes fantasize on Selina.  Ella's personality gains much of my respect as time goes.
Their albums try many different lyrics and styles.  And eventually there are about 5-10 songs I like from SHE. 
From entertainment aspect, there are really not much comparison in my opinion.  SHE is much more entertaining over the time.  However, there really souldn't be any comparison neither since one of them is from Hong Kong and another from Taiwan.  Background, entertainment needs and elements are all different back then.
I would have voted for SHE and keep my wish to become a close friend with Ah Kiu.  :p