These are the 3 books I browse today
The Guru Investor
writes about a list of greatest investors and their methods over time.
The Great Depression of Debt
- Just because someone asked about debt and loan in my finance blog, I suddenly pay more attention to this topic.
Profit From the Panic
- doing the opposite is always in my radar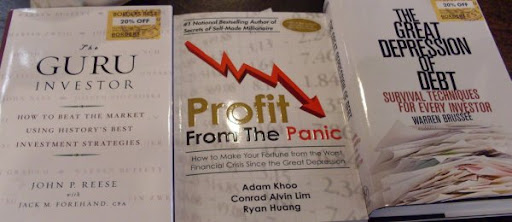 These are my comments after browsing them:
Profit From the Panic
is really about technical analysis.  They talk about trends and use tons of charts showing you how easy to earn from the market.  Most of the analysis methods are really simple and basic so you could have easily obtain them in internet and also my finance blog.  Some readers may already know that I claim technical analysis is actually just trying to make sense out of gambling strategies.  Although I use it a lot, but I strongly warn people who invest PURELY base on technical analysis.  Anyway, if you are new and want to start learning basic patterns in technical analysis, then this could be a good book.
This book is very Singapore oriented.  So a lot of great tips showing there is not suitable for Malaysian.  However, international and singapore market trading could have used those tips.
Although 
The Great Depression of Debt

mentions it is talking about the 21st century Great Depression but it is really base on 19th and 20th stuff.  I don't find any special methods or tips about debt control at all.  Basically it is warning you the depression is coming, bigger and bigger.  Which is kind of already known by quite a lot of people already.  2008 start the cycle, then 2017, followed by 2029 etc.
This book is very USA oriented, so some stuff are not applicable for people from south east asia.  Further more this book also shows you how much you need to save in order to retire.  But all are just simple compounding interest varies across different period of years.  Which I strongly recommend reading my finance blog for similar analysis.
I browsed for 4-6 minutes.
At first glance, The Guru Investor is one of those typical books which compile a lot of existing info together and make it easy for reader to find them all in the book.  I normally do not buy this kind of book because most of the info there are already known, I just take note of what I didn't know and then do my own research on it, slowly expanding my knowledge on it.
Usually this kind of book is also the most expensive ...
.
.
.
.
review on this book browse to be written later 
.
.
.
.
.
Browsed for 15 minutes, then another 40 minutes in depth.
but eventually I ended up buying this book.